MICHAEL MASUMOTO'S PHOTOGRAPHY
COLLECTION #1: SPRING LIGHT
NARRATED BY THE ARTIST
I live in a tremendously scenic part of Northern California, in the redwoods at the edge of the Sonoma County Wine Country. My home is next to a creek in a secluded canyon. It's a beautiful setting and I feel lucky to live there. But redwood canyons are dark, dark enough to drive you mad. You have to schedule time each day to get sunlight, like a health tonic. Perhaps this is why I have such a fascination for light and the effects of light.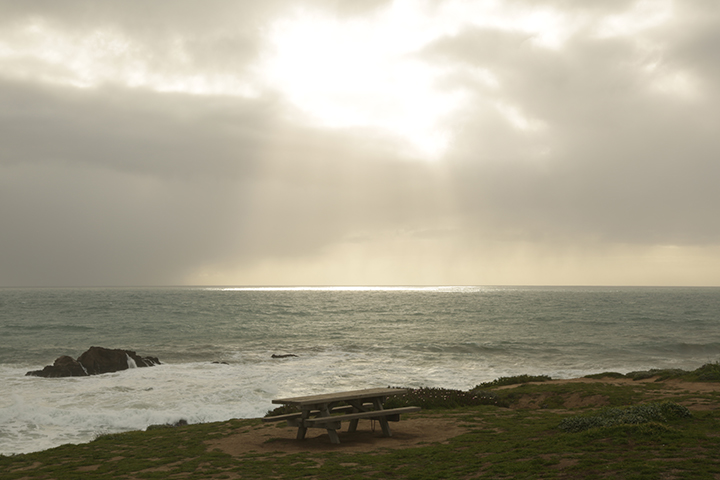 Holy Picnic Bench (2016)
While out filming scenery to accompany my piano sonata, I stopped along Highway 1, just north of Bodega Bay. The wind was blowing like crazy, chopping up the surf, as I pulled into this turnout along the cliffs. Did I take some video? Nothing about the light was satisfactory. Suddenly, the sun burst through the overcast! I was dazzled and snapped this shot. Why was a picnic bench on a turnout along the highway? Who knows, but what a view!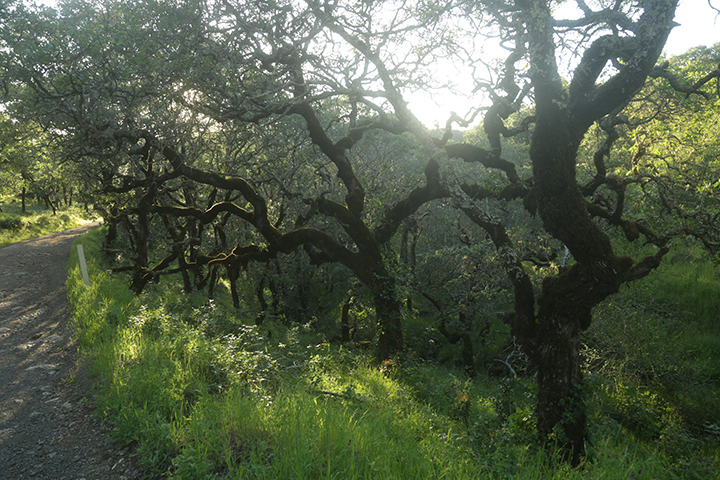 Overcome by the Sun (2016)
Although I have lived for many years in Sonoma County, I had never visited Annadel State Park before. What a lovely place, especially during wildflower season! Unfortunately, it's greatest beauties are nestled within a valley in the hills. In that hour before sunset when light is most favorable for the nature photographer, everything falls into shadow. On my descent into the valley, I captured a hint of Annadel's beauty in this image of gnarled oaks... soon thereafter, the sun disappeared. And I, having forgotten my flashlight like a fool, had to stumble my way back to my car through the oak woods, up and down the ridge trails, in the shadows of the gloaming. Ah, memories!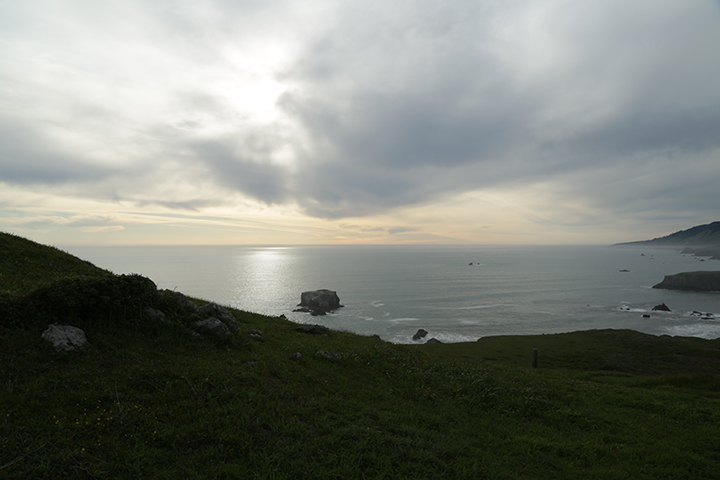 Just Another Day in My Neighborhood (2016)
Believe it or not, I see this view several times a week, when I need sun and walk on the Kortum Trail. Here, we're perched on a high promontory overlooking Goat Rock, near Jenner. Of course, spectacular skies do not happen every day! But that's how I like to remember this beautiful spot.
This photograph is an illusion. The location isn't nearly as isolated as my picture would imply; I have composed it with great care! A few degrees more to the right, and you would see the parking lot at the base of Goat Rock as well as the town of Jenner. I was surrounded by a crowd of other visitors, squeezing by me on that narrow trail or taking raucous selfies nearby. But this picture helps me pretend that I live in some kind of Gothic fantasy, in a castle on windswept cliffs.
In the Moment (2016)
Along the cliffs by the Kortum Trail, strange fingers of land protrude, slowly crumbling. On the final shoot day for my piano sonata film, I hiked out onto one such finger to video the waves as they beat upon the coastline. The light blossomed, succulent... the richness which means you're about to be standing in shadow, surrounded by a pink and orange sky. God, how beautiful! I began snapping stills of anything and everything, in between my video shots. The wild coastal iris were in full bloom, thank goodness, quivering in the breeze. I longed for a human model, but who could have known? I couldn't even recruit a stranger... the crowds had long since departed, the area deserted except for me. You can't plan for sunsets along the Northern California coast, they are notoriously fickle, prone to disappearing in a fogbank. But when you catch one, WOW, incredible!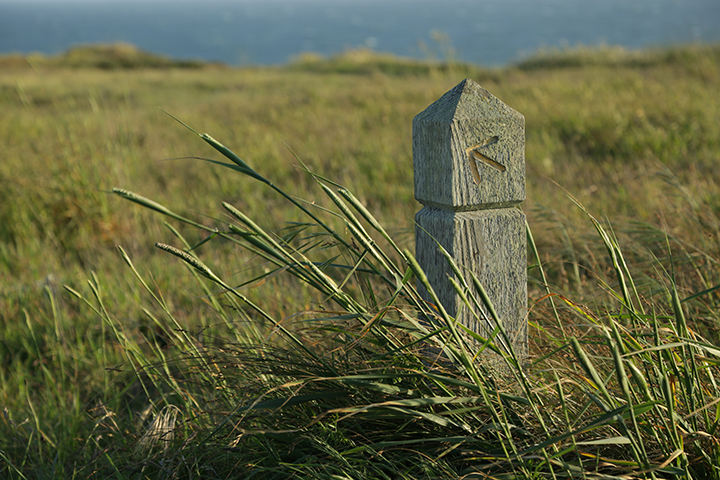 The Way Home (2016)
When you hike the wilder trails in Northern California, trail markers like these make you sing HALLELUJAH, because you're not lost after all! In some parts of Point Reyes, for instance, you can scrabble down rocky slopes through herds of cattle, desperately praying for a marker, the landmarks are so obscure. On the Kortum Trail, however, near Wright's Beach (where this trail marker resides), the path is so obvious that you could follow it blind drunk in the moonlight. Little old ladies walk their dogs on it regularly. Long stretches have beautiful boardwalks meandering through the marshes, and scenic bridges. So trail markers become almost irrelevant there. But when the wind is blowing and the sea is rough, as it was on the day this photo was taken, a trail marker feels like an old friend!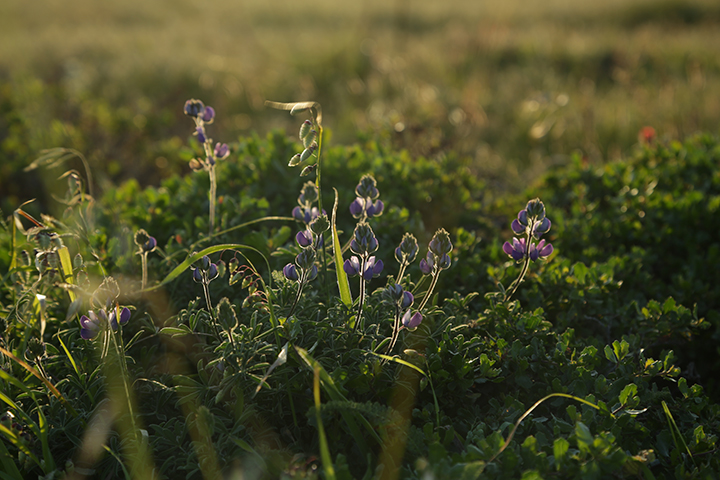 70's Backlight (2016)
When I was very little, Hollywood began shooting films facing the sun: backlit subjects, weeds or branches out-of-focus in the foreground, a little lens flare. I think those shots were supposed to make films feel fresh and spontaneous, a touch of cinema verité. That look became a cliché and mostly disappeared by the early 1980's. I miss the hippie romanticism of my childhood. I love extreme backlighting, it fills me with a glow of nostalgia.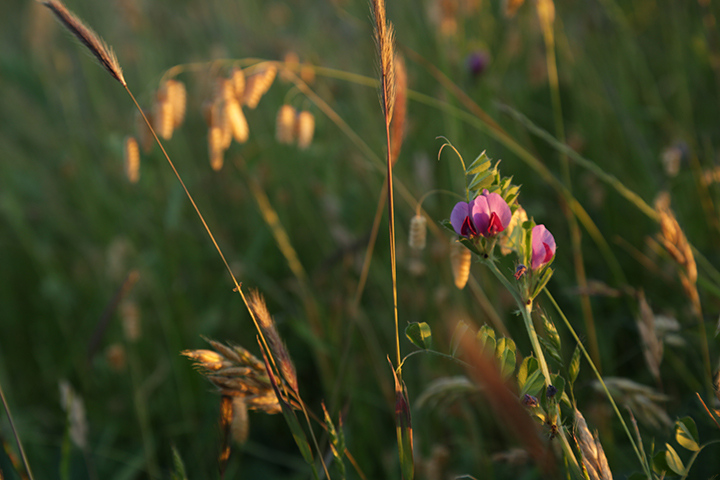 Sweet Pea Kiss (2016)
When my husband and I decided to repaint the exterior of our home, we consulted with our neighbors. Our neighborhood is tiny, everyone has strong preferences, so some coordination helps to ensure harmony.
I proposed yellow, normally considered a boringly safe color... but my neighborhood isn't normal. "Too institutional, too depressing, like a hospital." This made me very happy. "Well, I really wanted violet, but I thought everyone would freak out. Red-violet, the color of the native orchids and sweet peas that grow wild here." Much to my astonishment, our neighbors LOVED this choice. The color: Orchid Kiss. On our house, in the darkness of our canyon, it works beautifully, however unconventional it might seem. Our house is now a local landmark, which pleases the neighbors as well. I have only one regret: when the house was already half-painted, a friend pointed out that it was also the color of Barney the Purple Dinosaur! Good God! The Horror!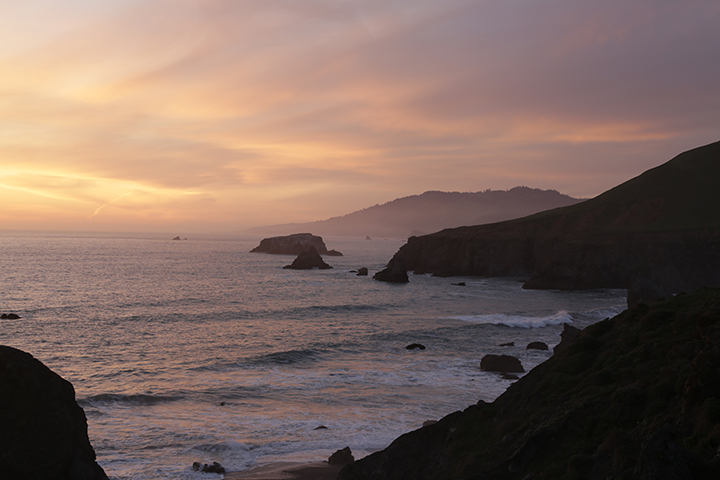 Sonata (2016)
Remember my picture of irises above? This was my view once the sun had set, perched on that crumbling finger of land along the cliffs. If it weren't for my piano sonata, I would never have seen that lovely pink mist filling the cove, there in the distance near Jenner. A place ordinary to me, transformed by color and light into a picture postcard.
Natural light in a Northern California Spring in my area is a flickering, shifting study of impermanence, at the whim of clouds, chill winds, and fogs, punctuated by unexpected heatwaves with empty blue skies or murk from an inversion layer. Then suddenly, overcast! Equally suddenly, sunshine! The light can turn on a dime, or it can poke along for days in monotonous sameness. This collection is not about documentary accuracy. I've tried to assemble a cross-section of moments which represents California's Spring light in its more seductive phases, a romantic vision of solitude and beauty. Hopefully, you've enjoyed our visit together! Until next time, --Michael
ABOUT THE ARTIST
For six years, MICHAEL MASUMOTO was the principal professor of Web Programming and Design at San Francisco State University's Multimedia Studies Program, at that time the #1 multimedia program in the world. Michael was an online education pioneer, producing and/or writing many web-based technical training courses. He also produced, wrote and programmed the first interactive talking children's book for the Web, the award-winning "Boogers and Boogeymen."
In 2010, Michael founded a high-end art furniture workshop in partnership with his husband, Kai Herd. Their work has won top prizes in competitions throughout California.
Michael holds a Master's degree in Music Composition from the San Francisco Conservatory of Music. He has composed and produced six operas, a string quartet, a bassoon quintet, a piano sonata, and many other works. Michael also holds a BA in Comparative Literature from the University of California, Berkeley.
Additional Artworks
Michael works in a variety of media, both physical and digital. Click the links below to see additional samples of his work.
For more about Michael's musical work, please visit the Music section of this website. For more about Michael's movie and motion graphics work, please visit the Video section of this website. And, of course, for more about Michael and Kai's physical multimedia projects, please visit our Art Furniture section. Thanks!
Last Updated: September 30, 2018
COPYRIGHT © 2010-2018 MICHAEL MASUMOTO